Some Ethereum developers expressed concern about the upcoming "merge". This is the transition from a proof-of-work to a proof-of-stake consensus mechanism.
Péter Szilágyi, team lead at an open source platform, pointed out a bug in Geth 1.10.22, the latest update of the blockchain. According to the developer, this error would damage the state, i.e. the structure of the datastore layer. A fatal mistake.
Daniel C, Ethereum Core Developer at the Ethereum research and development company Nethermind, reported similar problems. Therefore, his team will go into a "strict stabilization phase" before the merge. In this phase, "only fixes for the master branch" are merged.
Later, Szilágyi confirmed that the Ethereum developers found the reason for the error. According to the developer, everyone who uses this version has "deleted their database". However, the data loss only occurs during shutdown. Szilágyi then provided the latest version, a "hotfix" for Geth 1.10.22, called Sentry Omega.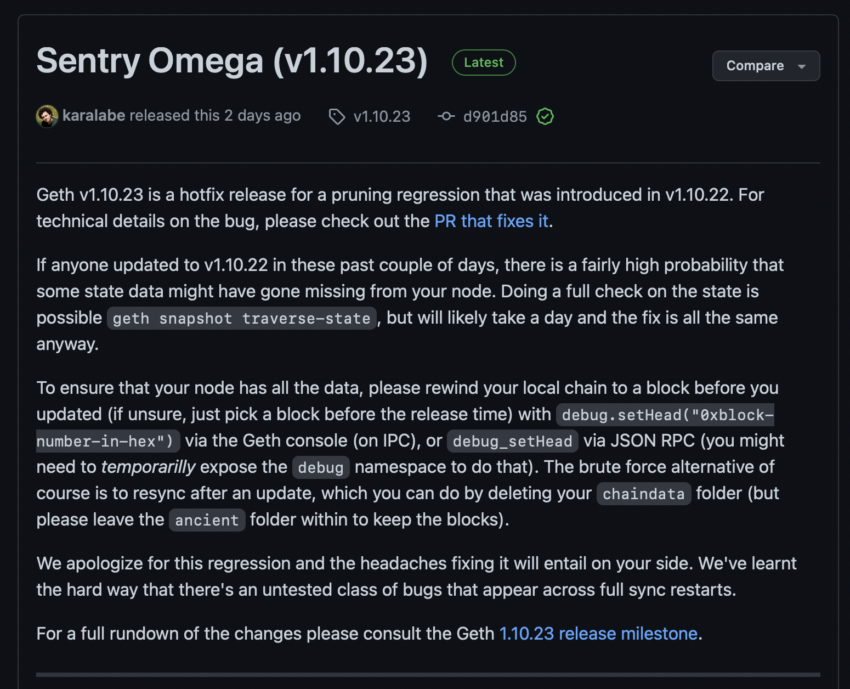 The open source project "Go Ethereum" is run by developers of the network on GitHub and helps to keep the community up to date and inform about possible problems in the network.
Ethereum: The long-awaited Merge
The Ethereum merger is the most anticipated event in the crypto industry. With this upgrade, the blockchain will switch from a proof-of-work (pow) to a proof-of-stake (PoS) consensus mechanism. The aim is to increase the efficiency of the network in terms of speed and reduce energy consumption by up to 99.5%.
The official date for the start of the merge has finally been announced by the Ethereum Foundation – the upgrade is scheduled to take place between September 10 and 20.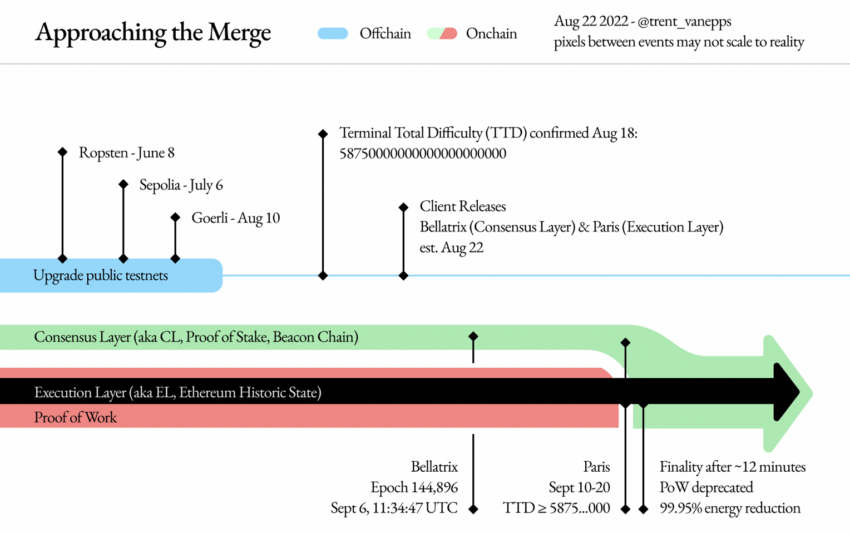 The Bellatrix upgrade kicks off the final countdown and is expected to go live on September 6th.
Vitalik Buterin, the co-founder of Ethereum, has always advocated for the proof-of-stake protocol. In November 2020, he named reasons in a blog post that convince him of PoS. In his opinion, the upgrade allows for increased security at the same cost, there would be more decentralization and it would be easier to recover from network attacks.
Although the network is not yet fully ready and may not run without problems, the community remains very optimistic. After all, it is one of the most important events in the industry. The project is receiving support from Reddit users, Mark Cuban and some crypto companies.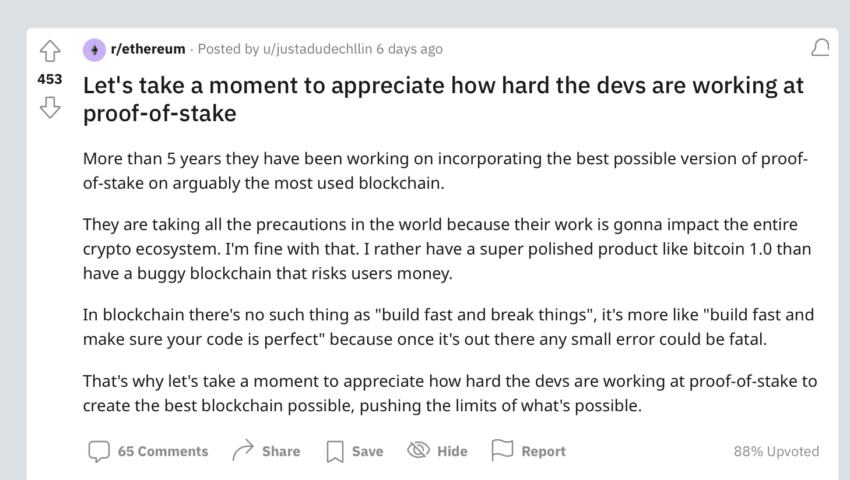 Disclaimer
All information contained on our website is researched to the best of our knowledge and belief. The journalistic articles are for general information purposes only. Any action taken by the reader on the basis of the information found on our website is done exclusively at his own risk.